So here it is, a review of my (a little bit later then I had hoped for) Call Of Duty: Black Ops 2 Care Package. Here in the UK its a
GAME
exclusive and I was lucky enough to land myself one.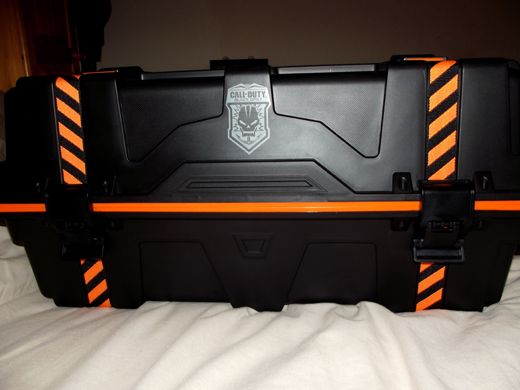 At £159.99 it is the most expensive game I have bought but it's worth every penny, the Care Package was alot bigger then I thought it was going to be and feels really sturdy and well built and looks amazing! The colours come from the in game care packs and follows through to the care pack exclusive multiplayer gun camo.
The first thing you see upon opening the pack are 2 boxes which contain a scaled down version of the MQ-27 Dragonfire scorestreak and the remote control.
Uner the boxes are the game itself and the challenge coins. The game comes in a stealbook case with custom artwork, one side is Black Ops 2 while fir the first time ever the other side is for Zombies. The challenge coins are a nice addition, one coin had a Dragonfire and the other has the Black Ops skull logo, each coin has a "II" on one side and also has a unique code which gets you all the DLC.
The DLC includes Nuketown 2025, Nuketown Zobmies a digital download of the soundtrack (Which includes the amazing title song done by Trent Reznor) and some xbox avatar clothing and props.
I can honestly say that I am over the moon this this special edition and hope that the people behind the series carry on the excellent work.