Before I start with the review I just want to say that yes my blog is called The
DIGITAL
Bites but I have a new found love for lo-fi photography and this is the first of hopefully many cameras to come.
This is a review of the
Lomography
Fisheye 110 Basic, it's a smaller pocket version of Lomography's Fisheye No.2 and as the name says packs a fisheye lens and view finder. A lot of cameras like this would get called toy cameras due to their size and styling as well as plastic cameras because they are made of plastic and/or have a plastic lens.
No I am not a giant, the camera really is that small! But as they say the best things come in small packages.
It takes 110 film that was discontinued in 2009 but Lomography started making their own in 2012.They first did the Orca Black and White 100 ISO (the film I used) and have brought out the Colour Tiger 200 ISO, Peacock 200 ISO and Lobster Redscale 200 ISO.
I am a total photography novice but found it really easy to use, just look through the viewfinder and click, it really is that simple. If you are in a low light situation you can change the shutter to stay open as long as you hold the button down and doing so will help more light get in which boots the brightness of the picture but be careful as it can over expose but then again that's what some people want so play away.
Getting the 110 film developed was not as hard as I thought it would be, you can send it off to Lomography for them to do it but you can also find people local to you who can do it. I went to my local
Max Spielmann
and they could do it but had to send it off, it did take just over 2 weeks to get the pictures but I did send it off just before a bank holiday so that set back the return date.
As you can see it is great for pictures when you are out and about and I was lucky because he had some amazing weather for me to test it out.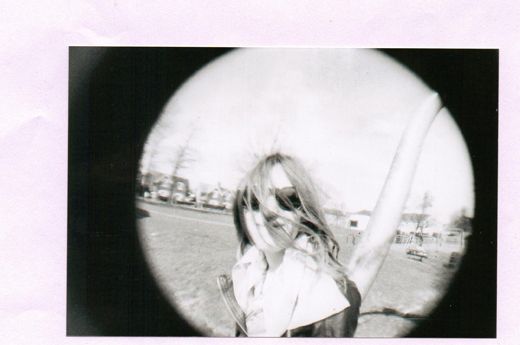 The above pictures show you what I feel the camera is made for, getting timeless pictures of friends and family that you can not get with digital cameras.
The white around the pictures is from when I scanned them using a all in one scanner and printer but Lomography sell the DigitaLIZA 35mm Scanning Mask which you can also use to scan your 110 film negatives but you can also buy dedicated film scanners that takes 110 as well as 120 and even 35 film.
I think it is safe to say that I have caught the Lomography bug and have a long list of cameras I want (more like need) and will be getting over the next year or so. I think this camera would be perfect for a young child to use as they wouldn't spend their time setting up the picture, they are impulsive and will just look and shoot and that is something I need to learn how to do.