This is a bit late up but here is my review of the
Zavvi
exclusive Metal Gear Rising: Revengeance Limited Edition.
How I have never been a fan of the Metal Gear games, don't get me wrong I have tried them but I just couldn't get to grips with them.......but throw everything you know about the games out the window as this is more like Devil May Cry then the older Metal Gear games.
The figure was in the box but I got a bit ahead of myself and unpacked it before taking a picture *oops*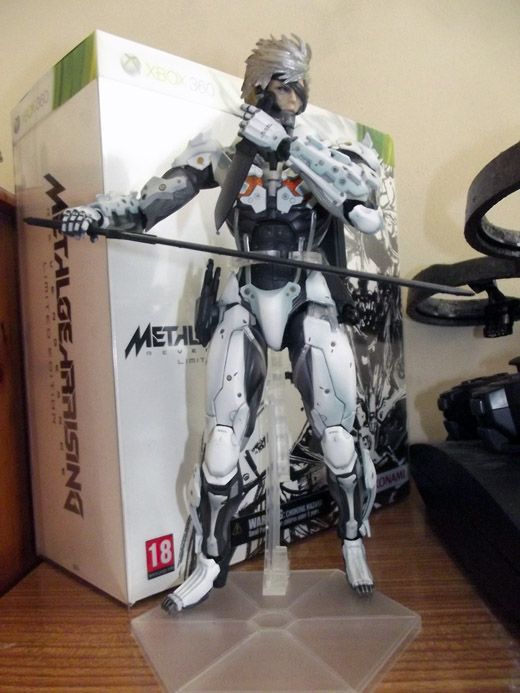 As you can see the figure is stunning, the detail is mind blowing! It comes with 2 pairs of hands to grip different things, 2 pairs of feet (in game Raiden uses his feet with his sword), a changeable faceplate, his sword, large knife and a set of daggers.
The figure is from the
Play Arts Kai
collection, I had never heard of them before but since seeing them I know one thing and that's I need more of them!
The game itself got me hooked as I am not really the sneaky kind of player and love to go running in and taking things head on. The game play was something different for me as I am more of a FPS gamer and don't really go for hack and slash games but it was really easy to pick up but hard to master.
Revengeance does start off easy teaching you the controls and how to block but I found that it got hard quite fast but that didn't make me enjoy the game any less, if anything is spurred me on to keep at it and get past the boss fights.
The music is something else, it doesn't try to take over but slowly builds up in the background and gets the blood pumping, I have even found myself bopping along to them while trying to get my combo higher and higher.
So if you want a game to get the heart beating fast and make you angry (in a good way) then go out and but this NOW!
Follow my blog with Bloglovin